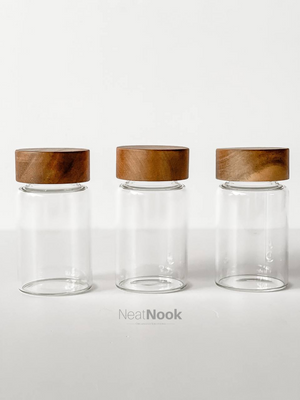 Celeste Acacia Screw Cap Spice Jars (200mL)
Sale price Price ₱199.00 Regular price ₱250.00 Unit price / per
Level up your pantries with our Celeste Acacia Spice Jars. Aside from aesthetics, it's screw cap lids make it airtight which keeps your favorite ingredients fresh for longer.

Celeste brings the old fashion back. With an acacia wooden lid, the glass jar looks more natural which will give a new look to your pantry and kitchen area. 
Our Celeste Acacia Screw Cap Spice Jars comes with a FREE fully customizable label of your choice equivalent to the number of jars you would purchase. Upon checking out just select your preferred style and prints on your labels so we can prepare it for you. 
Perfect for use in storing:
Herbs and spices
All types of seasoning
Medicine Pills and Capsules
Kitchen staples 
Why we love Celeste:
Premium Quality
Celeste's screw cap lid makes the jar 100% airtight which will keep your favorite kitchen staples fresh for a longer period of time. Its body is made of high borosilicate glass which is specialized to withstand extreme temperature changes unlike regular glass. Its durability makes it oven and microwave safe; without the lids. This makes it the glass of choice for high-end restaurants and wineries.
 Child Proof Pressure Lid
The screw cap lids are designed to open when you put pressure on it while unscrewing it from its body. It makes the jars safe from your kids who would accidentally play with it because it will only rotate the cap but not unscrew it from the jar easily.
 Dimensions (Circumference x H)
6 x 10 cm / 2.36 x 3.94 inches